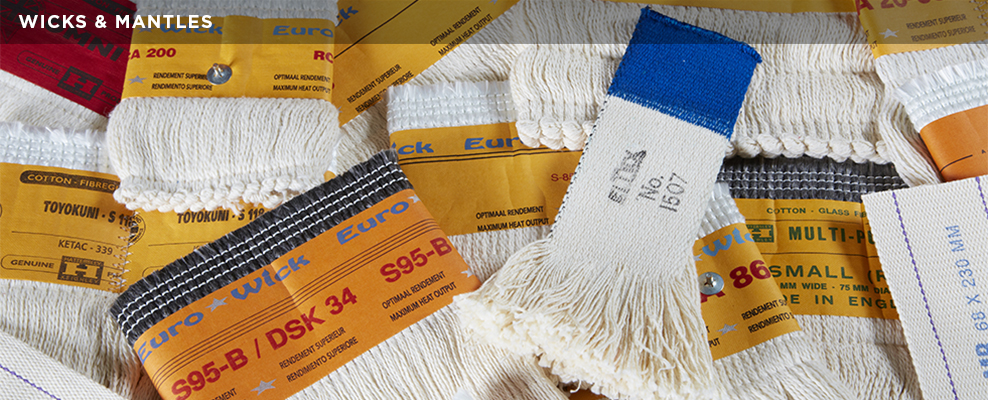 WICKS & MANTLES
The World renowned range of Hattersley wicks continues to be manufactured within our Keighley factory, located close to the Yorkshire Dales, here in the U.K.

We have earned a worldwide reputation for quality and reliability, combining the traditional values of workmanship, with continued advancements in innovation and technology.

We are proud to brand our wicks "Made in England," and manufacture for OEM and after market applications, only utilising the finest raw materials to give unrivalled quality and performance.

Our range is both vast and comprehensive including the following:
Fibre glass and cotton wicks for a vast range of Japanese style radiant and convector heaters - both old and new.
Central draught wicks for all types of kerosene/paraffin central draft convector heaters and cooking stoves, both ancient and modern.
Fibreglass braided wicks in sets of 6 or 8 for Valor/Rippingilles type radiant room heaters.
Cotton lamp wicking, flat or tubular, to fit all types of oil lamps and lanterns, decorative or functional, traditional and modern, supplied in roll form or cut in lengths.
Large diameter and wide width cotton wicks for cooking and boiling stoves both ancient and modern.
Round spirit wicking in a variety of diameters for methylated spirit burning lamps. For ornamental, laboratory and domestic use. Supplied in hanks or cut in lengths.
Fibreglass kindler wicking in a variety of widths for most old style paraffin radiant room heaters. Supplied on the roll or in cut lengths.
Solid spirit wicking for use in methylated spirit burning "crepe suzette" restaurant table cooking stoves. Airfield emergency warning lamps, (for use in fog) etc.
Wicks for use outside the home, tubular or flat for all types of paraffin/kerosene fuelled greenhouse heaters, incubators, motor vehicle sump heaters, radiators, refrigerators, railway signal lamps etc.
WICKS & MANTLES
Wicks & Mantles